Welcome to
"Scotty's Garage"
by
Time Passages, Ltd.




Decor, Movie Props
Design & decor for trade shows, movie sets, game rooms, restaurants & offices

Above: Nostalgic gas station at Walt Disney's MGM Studio Theme Park in Orlando, Florida

Above: Movie set for Bridges of Madison County, Winterset, Iowa

Extensive gas marketing history display at the PEI Comdex, the Petroleum Equipment Institute 50th Anniversary Convention, San Diego, California.
Contact us about supplying quality restorations, reproductions, movie props and vintage decor.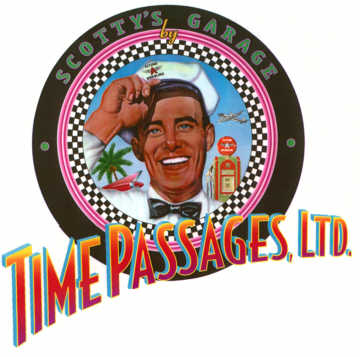 Order by Mail - Fax - Telephone
Mastercard, VISA, Discover, American Express, Checks and Money Orders Accepted.
Questions & inquiries: 515-223-5105
Fax: 515-223-5149
Orders only: 800-383-8888
Mon-Sat 8:30 - 5:30 Central Time
Time Passages, Ltd.
P.O. Box 65596
West Des Moines, IA 50265 USA
We ship overseas.
Wholesale dealers welcome