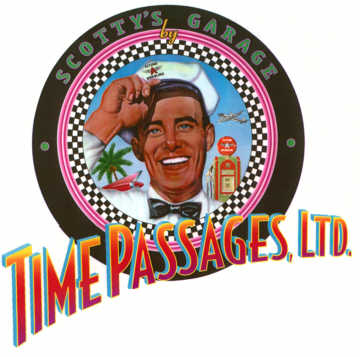 Welcome to Scotty's Garage
Your source for nostalgic gift memorabilia
and gas pump parts and accesories.
At Scotty's Garage, we would like to thank you for your patronage!
We have many items that we offer that are not shown on this website,
and we continue to add new products!
If there is something you don't see, please e-mail us
or call us at 1-515-223-5105 for more information
or 1-800-383-8888 for orders.
Click here for this month's sale items

Time Passages, Ltd. is the leading vendor of original and reproduction gas station memorabilia. The company was established in 1982 by Scott and Debbie Anderson.
Scott is the author of the premier book on petroleum collectibles, "Check the Oil," a pictorial history of the American filling station with price guide.
You are now able to drive right here and fill 'er up with secure online ordering of part of our product line featuring gas pumps, globes, restoration parts & supplies, signs, decals, novelty gift items and many more collectibles. You may also use our toll-free telephone line for ordering from our complete product line
You will see some of our restoration work when you visit Walt Disney's MGM Studio Theme Park in Orlando, Florida and EuroDisney in Paris, France. We have provided Universal Studios, and many other movie production companies with set dressings and props for films such as Avalon, Bridges of Madison County and more.
We attend many vintage auto swap meets and shows throughout the country.
And if you are traveling in the Midwest, visit us at Scotty's Garage!
Come see us at these events:
2013 Time Passages, Ltd. Show Schedule

January 13-20 Barrett-Jackson Classic Car Auction Scottsdale, Arizona – Westworld

February 21-24 Zephyrhills Winter AutoFest Zephyrhills, FL – Festival Park

April 5-7 Chicagoland Show St. Charles, IL – Pheasant Run Resort

April 25-28 Pate Swap Meet Ft. Worth, TX – Texas Motor Speedway

June 21-22 IPCA (International Petroleum Collector's Association) Convention Dublin Embassy Suites, Dublin, OH

July 11-14 Iola Car Show Iola, WI

July 31-Aug 2 Iowa Gas Swap Meet and Auction Des Moines, IA – Airport Holiday Inn

Aug 29-Sept 1 Auburn Car Auction and Swap Meet Auburn, IN

October 9-12 Hershey AACA Car Show Hershey, PA

November 15-17 Chicagoland Show St. Charles, IL – Pheasant Run Resort

Request our $4.00 Restoration Catalog in print form.


Order by Mail - Fax - Telephone
Mastercard, VISA, Discover, American Express, Checks and Money Orders Accepted.


Questions & inquiries: 515-223-5105
Fax: 515-223-5149
Orders only: 800-383-8888
Mon-Sat 8:30 - 5:30 Central Time
Email: anderson@time-pass.com
Time Passages, Ltd.
P.O. Box 65596
West Des Moines, IA 50265 USA
We ship overseas.
Wholesale dealers welcome